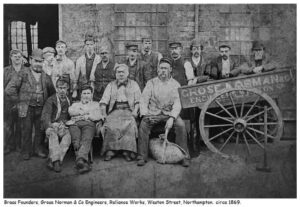 Grose & Norman and Co. Engineers, Reliance Works in Weston Street (now St. Peter's Way) re-hung St. Peter's church bells in May 1893.
William George Norman, the partner in "Grose & Norman' was born in 1862. He died aged 61 years on Monday 17th September 1923.
The firm 'Grose Norman' and the 'Reliance Works Weston Street' are not mentioned in the local papers until 1891 which is probably when this photo was taken.